Object browser
Hyphenation checker
InDesign JavaScripts
---
Indesign Object browser
InDesign CS Object browser is a free program that loads the type library of Indesign CS, CS2, CS3, CS4 or CS5 and displays its content on screen in a tree view. You can edit statements and copy and paste them or drag them to your favourite editor.
The browser supports VB, Delphi and JavaScript (excluding all JavaScript-only properties or functions).
The program runs on Windows only (2000 and later).
Latest version 1.1.0.3 (11-11-2009)
Download Indesign Object Browser
Donate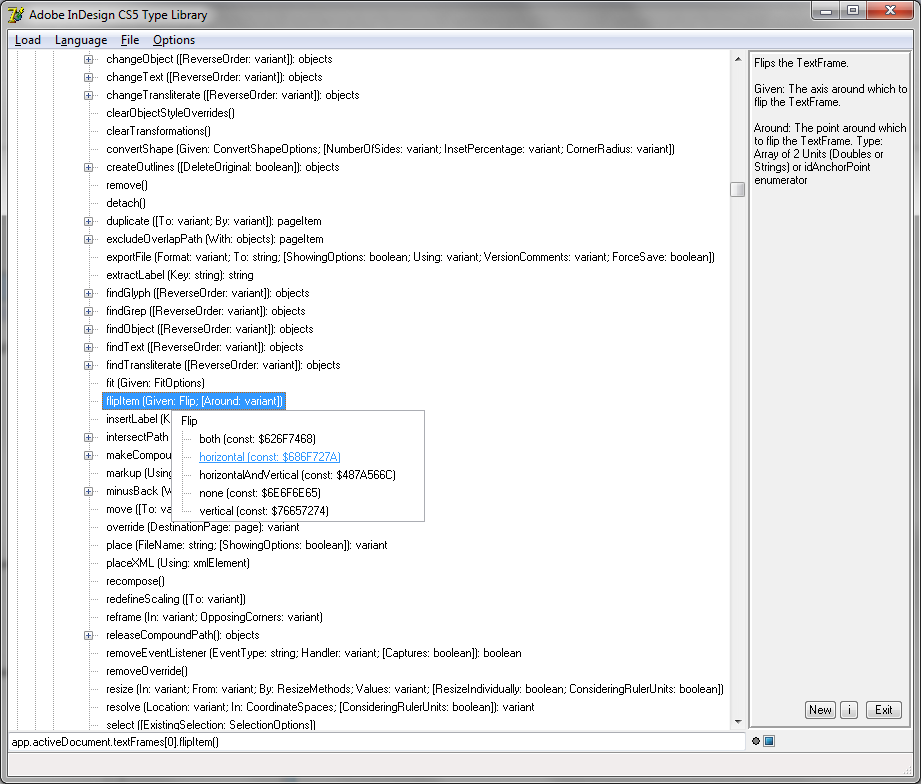 Indesign Hyphenation checker Top
Hyphenation checker is a free program that collects all hyphenated words from all stories in the active document or from all stories of all documents in a book.
Once collected, you can go to a page with a wrong hyphenation by doubleclicking on it's entry or page number.
The program runs on Windows only (2000 and later) and works with InDesign CS, CS2, CS3, CS4 and CS5.
Latest version 2.1.0.1 (12-04-2010)
For a Java script that does the same (with some restriction) and works also on a Mac, see scripts below.
Download Indesign Hyphenation checker
Donate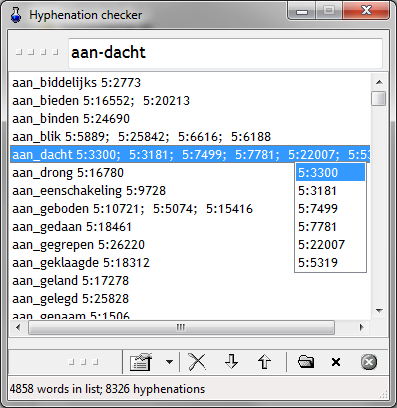 NB: The file format of this version is incompatible with previous versions, so you cannot load hyphenation lists of previous versions in this one.
A Dutch version which checks the collected words against a list of Dutch words is also available. / Een Nederlandse versie die de lijst verzamelde woorden vergelijkt met een goedgekeurde lijst is verkrijgbaar. Neem daarover contact op via e-mail.
InDesign JavaScripts Top
Script to change endnote letters to numbers (to repair the Word-import bug in ID CS2 4.0 and 4.0.1)
This bug has been solved in ID CS2 version 4.0.2, so users who have updated to that version don't need this script.
Script to increase/decrease endnote numbers
Script to apply an object style to XML elements with a certain tag
Cleanindex: script for cleaning indexes (sets double entries to non printing; combines consecutive pages; look at the header of the script for more info)
Resetindex: script to undo the effect of Cleanindex (look at the header of the script for more info)
A simple script to balance the columns at the end of a story
A script to rotate pages for top or bottom binding (e.g. calendars) -- updated February 25, 2008 (works now in CS3)
Script for cross references, including a tutorial on how to use it (updated April 10, 2006; added May 2007: works also with ID CS3)
Script for ID CS4 to convert hyperlink 'cross references' made with the script described above to 'native' cross references in CS4. Works also with CS5.
gethyphens: A script that collects all hyphenated words from the active document. Once collected, you can select a wrongly hyphenated word in the document by doubleclicking on it's entry. Works also with CS5. Made in collaboration with Peter Kahrel (Peter's home page).
Correction of links in epubs made with InDesign CS5. In InDesign CS5 you can create 'chunked' epubs by checking 'Use First Level Entries as Chapter Breaks' on the Contents tab of the epub export dialog. When epubs created with this option checked contain links, these links will not work. The two scripts in this zip file correct these links, so they are working again. As an extra, the script adds the publication year to the epub.
Please note: we have found that only the links in documents split by the CS5 exporter will be fixed. For books the script does only work for references to earlier documents in the book, not for forward references. This means in practice that for most books the script will not repair the links and should be seen as a means to add the year only. At the moment I see no way to repair this, because the book epub output of InDesign does not contain sufficient information to repair links referencing forward to others documents in a book.
Because these scripts create an extra menu item, the installation differs from the other scripts. Do this to install the scripts: unzip the contents of the zip file with the scripts -- including the folder pathes -- in the user script folder (see below), not in the subfolder Scripts Panel. After installation, the user script folder should contain a subfolder 'corEpub', which should contain a folder 'startup scripts', each with one script. After restarting InDesign there should be an extra menu item: File > Export for > Epub with corrected links...'. The book panel will also have an extra corresponding menu item (but see above for the limitations of that option). Use these menu items to create your epubs.
For non-English users: localization of the menu items is possible by creating a file with the locale where you are, followed by '.dat'. As an example, there is a file 'nl_NL.dat' in the folder ePubs. The first line should contain the string for the file menu item, the second for the book menu item.
If you use these scripts, I would appreciate a donation.
For publishers and other people that make a lot of epubs, a more extended solution is available and custom made solutions are possible. You can contact me about these solutions by e-mail.
For all scripts except the last (epub correction): place the script in the script folder of InDesign. For version upto and including CS2 this is the subfolder Presets\Scripts of the InDesign program folder. For later version you can find the folder in this way: in InDesign make sure the scripting palette is visible. In this palette choose the entry User, right click on it and choose 'Reveal in Finder' (Mac) or 'Reveal in Explorer' (Windows). Scripts should be placed inside the subfolder 'Scripts panel' of the folder that appears in Finder/Explorer. After this, the script will be on the Scripts palette. Doubleclick on the script to run it.
---
If you feel you save considerable money by using my utilities and/or scripts, donate some money to enable me to make more useful utilities and scripts.
---